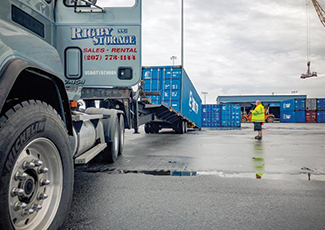 Rigby Storage makes moving hassle-free. Pack & Go Storage eliminates the need to rent a moving vehicle:
We place a container at your location fast, usually during the same day or within 24 hours of your phone call.

You fill the container with your valuables, at your own leisure.

When you are ready, we move the container to your new location.
Rigby Storage saves you time and money:
You are in no hurry. You may pack and move your valuables at your own leisure.

There is no need to spend large amounts of money renting trucks and worrying about gas and mileage. You may start packing weeks or months before your move with no hidden or additional fees.

Our containers are clean, wind and water-resistant, and secure.
Pack & Go Storage is for 20′ containers only and is available within the state of Maine. Please contact our moving company to learn more about our services. We provide moving services for South Portland, ME and the surrounding area.